Lesser Known Madison County Highways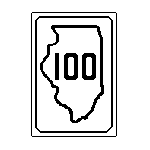 Illinois 100: Began in the 1940ís (exact date not known), it went from the then 67/111 spilt in Godfrey to Grafton. In the 1987 switch, that route became IL 3 and the McAdams Parkway (what residents were claiming was 3) became IL 100. 1993 wasnít a year to remember for 100 commuters as the highway was closed from Alton to Grafton for much of the year due to flooding.
Rich Carlson has this highway in his roadtrip page. This highway has been designated a National Senic Byway.
---

Illinois 111: Route from East St. Louis to Waverly. This highway has changed very little ever since it was comissioned in the 1930's. The only major changes came from an extension from Alton to East St. Louis in the 1950's, a new alignment (Homer M. Adams Parkway) through Alton in the early 1960's, and the route multiplexion with IL 3 in 1987. A minor change came in 1994 when US 67 got a new route through Alton, which made Godfrey Road from the Block's Resturant to IL 3 just IL 111.
---

Illinois 140: Route from Alton to Greenville. One of only four east/west marked routes in the county. Cosigned with 111 from Alton to Bethalo and becomes a two-lane road for the rest of its journey. Part of Broadway became 140 during 1994 with the opening of the new Clark bridge. Date of conceivence isnít known for 140.
This highway was once IL 160 and then IL 11, but that was back in the 1940's. It also extended into Missouri as MO 140 on the current US 67, but that was dropped in 1974.
---
Illinois 160 went from Addieville to Alhambra. Date opened during the 1930ís. Cosigned with US 40 and 143 in Highland. Otherwise, thatís just about it. 160 is a highway that is somewhat quad-directional.
Here's more from Mark Bozanich about the old 160 alignment:
Il 160 headed W from Greenville on US 40 via Hamel to Alton.
Today, that route is IL 140.
---

Illinois 162 is a short route from IL 203 to US 40 in Troy. 162 count as one of the only 4 east/west routes in Madison County, becoming 40 east of Troy. It has gained some notoriety last year when part of the highway got closed due to a truck on 55/70 slamming onto the overpass. It happened at the time the US 40/55-70 interchange was closed for repairs. Traffic had to detour from 162 onto 55/70, then on 270, south on 159, and back onto 162. For the other way around, one would have to exit onto 143 and then go back via county roads or take IL 4 to US 40 west.
162 has existed since the late 1950's from IL 3 to IL 157; it was moved to the current routing back in 1967.
---

US 40: When combined with IL 162, 40 count as one of the countyís only 4 marked east/west highways. Up to the late 50's, 40 went around St. Louis on the old Chain of Rocks Bridge (with 66) while a "City" 40 went down Collinsville Rd. and over the Veterans Bridge. After that, it has been co-signed with 55/70 at Troy into the St. Louis area.
One of the original US highways; in 1926, US 40 replaced IL 11.
40 has been long known for infamy. The interchange with 55/70 near Troy has long been known as "Dead Manís Curve". The curve has long been known for its fatal truck accidents ever since 55/70 opened. The interchange on the curve hasnít been known for sticking around for a long time: it has totally been reconstructed twice with the most recent being last year. The interchange reconstruction and the 162 problems made Troy an isolated place for part of July 1996.
Mark Bozanich has more about US 40:
One of the original US highways in 1926, US 40 replaced IL 11. Originally,
US 40 entered Madison County from the E, passing through Highland, Troy, and Collinsville, continuing to East St. Louis. The route was straightened over the years with bypasses of Highland, Troy, and Collinsville. By the mid 1960's, I-55 and I-70 had been completed in Madison County. Since then, US 40 has joined these Interstates SW of Troy, sharing the roadway with these two routes to St. Louis.
US 40 Branches: There were several different branches of US 40 over the years. None of these branches exist today. For more, here is some information submitted by Bozanich:
Bypass US 40
The Chain of Rocks Bridge across the Mississippi River was opened to traffic in the late 1920's. By the mid 1930's, Lindbergh Blvd was completed on the MO side of the Mississippi. At this time, Bypass US 40 was marked to provide a route avoiding traffic in the Downtown St. Louis area. Bypass US 40 started at Troy, headed W to jct. US 66 SW of Edwardsville, and continued W via US 66 across the Chain of Rocks Bridge into MO. By 1968, I-270 was opened to traffic, providing a multi-lane divided controlled access bypass around the N end of the St. Louis area. Bypass US 40 was decertified. The Troy to IL 157 portion of Bypass US 40 became part of IL 162.
City US 40
By the Mid 1940's, US 40 had been shifted to a bypass around the W and N sides of Collinsville via IL 159 and Belt Line Rd. The older route of US 40 through Downtown Collinsville became City US 40. This designation was used into the early 1960's.
Business US 40
When US 40 was shifted to the I-55 I-70 route in the 1960's, former US 40 from the Troy area to East St. Louis became Business US 40. This designation was used until sometime in the 1970's.
Alt US 40
The Collinsville bypass was posted as Alt US 40 for a few years in the 1960's after US 40 was shifted to I-55 I-70.