Illinois 3 and 203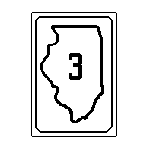 Illinois 3: Existed long before 1926, it originally went from Morrison (in Northern Illinois to Chester. That changed around 1926. The section from Morrison to East St. Louis became US 67 and Route 3 was changed from Cairo to East St. Louis. That remained until 1964, when Alternate 67 (I think) was dropped. As a result, Rt. 3 got extended into Madison County, the first time in nearly 38 years. It went through Nameoki, Old Alton Road, Delmar, Lewis and Clark Blvd, and Broadway up to US 67 near Belle. A couple years later, a new four-lane section of Rt. 3 from Granite City to East Alton opened. This eventually became the current routing of Rt. 3. Nameoki and Old Alton Rd. became IL 203. The McAruthur (4 lane Great River Road from Alton to Grafton) highway was opened in 1969 and was not marked. However, the locals referred it as Rt. 3. The Berm Highway opened in the early 1970ís and Rt. 3 was routed onto the Berm. Ironically, when the Homer Adams extension opened in November 1987, Rt. 3 was routed back onto Lewis and Clark Blvd and the Berm became "New 143."
There are some old road maps proving this. Remember to use the "Back" key to return to this page.
Here is more information by Mark Bozanich:
As for IL 3, the N terminus was Morrison and S terminus Chester in 1926. From Jacksonville to Alton, IL 3 passed through Carrollton, Jerseyville, and East Newbern. In other words, the route traveled along what is now part of IL 267 to Jerseyville, IL 109 from Jerseyville to a mile S of East Newbern, and IL 3 from 109 to Alton.
Now to 1930. IL 3 still followed the same route from Morrison to Chester. Illinois had added some 100 series routes to the state highway system by 1930. US 66 still followed IL 4 from Staunton to Venice. A new paved state highway, IL 126, had been completed from Springfield to Litchfield. US 66 followed IL 126 from Springfield to Litchfield and IL 16 from Litchfield via Mt. Olive to Staunton. The route from Springfield via Carlinville to Saunton was still IL 4. US 40 still followed IL 11, US 67 still had not reached Illinois.
---

Illinois 203: A route existing since the 1964, this spur originally went from East St. Louis to Oldenburg. In the 1990ís, the route changed to between 55/70 and 270. A highway once considered for decommission, today has the link to Gateway International Raceway, Tri City Speedway, and BAC-Granite City.
Just before the 270 era started, 203 followed old Route 3 from East St. Louis through Granite City, then on Old Alton Road and then Delmar in Hartford. Delmar was turned over to the village of Hartford in the mid 60's; Old Alton Road was turned over to the county in 1987, but that was unrelated to the "Switch" that happened in November 1987.