Illinois 143
When it comes to important east/west highways in Madison County, IL 143 is the second most important east/west highway in the county next to I-270.
143 started from IL 127 to Highland in 1938 when it replaced IL 127A (prior to that, IL 143 existed in Harrisburg). In the 1940's, it was extended from Highland to Edwardsville. In 1964, it went from East Alton to IL 127 after IL 159 got changed to a strictly north/south route. Until 1987, 143 was never wider than a standard two-lane road except for the interchange with a road leading into SIUE. When the "switch" happened in 1987, it changed 143 drastically. The Berm Highway became 143 and Madison Avenue in Wood River opened. For the first time ever, 143 was a 4-lane highway for more than 1 mile. East Alton lost 143 in the switch, but very few of the businesses that served old 143. In 1993, 143 stayed open throughout the entire flood despite downtown Alton getting flooded. (It enabled Alton Belle to stay open for the entire ordeal.) On January 4, 1994, the New Clark Bridge opened to traffic even though most of the connections from 143 were not complete. (Those connections opened that spring.) Those new connections proved very important during August 1994 during a certain emergency which every Alton resident knows anyway. For 4 days, 143 became known as an important detour since it took you straight to the Clark Bridge with just two stoplights to fight once west of Rt. 3. Ironically, repair work was ongoing on 143 when everything happened. Although the repairs made the resulting traffic jams even worse, those jams still beat the downtown St. Louis traffic on August 11 and 12.
Last year, IDOT widened 143 from just east of the old 143 (Edwardsville Road) turnoff to just east of the Alton Bypass from 2 lanes to 4. Once the first stretch of the Alton Bypass opens, 143 will be 4 lanes from there all the way to the Clark Bridge with just 7 stoplights between them (and only two from Rt. 3 to the bridge).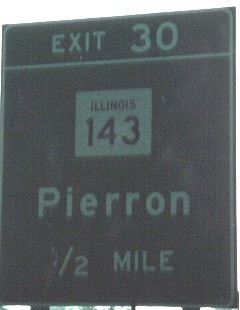 Here's a sign on westbound I-70 that you might call it a goof because IL 143 does not intersect I-70 at Pierron. In reality this guide sign should have a US 40 shield on it.
But if you're going to Pierron, this is the exit to take. Just remember to go south for a mile to reach 143. But if you're going to Marine, you should take Exit 24 from I-70 because it is much closer. (And unlike Exit 30, I-70 does intersect with IL 143 at Exit 24.)
This photo was taken in December 1997 and it somewhat looks like crap due to the sun's glare.