Welcome to Missouri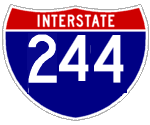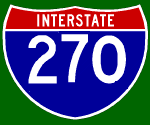 Not all of I-270 in Missouri has been original. The first 20 miles were originally numbered I-244. I have moved the junction list over here to cut download time.
The "244" section
This section opened around 1967 from I-55 in Mehlville to I-70 near Champ. The trailblazers are of a darker green color than the original section. This section endured major reconstruction in sections beginning with the US 40 interchange in 1987 that lasted until Christmas 1993. Other reconstruction projects included I-55 interchange reconstruction from 1991-1994 and I-44 interchange reconstruction that started last year (and already had a worker get killed in August). The 44/270 interchange is slated for completion around 1999.
There has been changes around the 44/270 interchange as of July 1998. The new ramp from westbound Manchester to southbound 270 opened on July 24. And if you choose to get on 44, note the lane spilts west of 270.
There is some nighttime construction on 270 as well from 55 to 70. Most of the daytime construction is confined at Manchester.
In 1992, a new overpass was built at the Manchester overpass in memory of JJ Kelly, who was a sports announcer in St. Louis, most notably with the Blues.
The JJ Kelly Memorial Overpass (photo from the KDG Incorporated website
All the interchanges with the interstates from 55 to 70 have been rebuilt or is getting rebuilt. The 270-70 interchange was redone in the 1980's. After that, the 40-270 interchange was rebuilt (construction lasted from 1987 to 1994). The 55-270/255 junction was rebuilt from 1991 to 1994. Right now the 44-270 junction is getting rebuilt (1997) and is scheduled to be done in 1999.
The original section
I-270 opened to local traffic from Lindbergh and MO 367 around 1962. The entire section was open by 1966 except from Lilac to Illinois (that section did not open until January 1967). Currently, reconstruction has hampered traffic from Lindbergh all the way across the river up to 255 and then on the westbound lanes between IL 157 and 159. (That should be over in December.)
Almost all the westbound exits except for I-170, MO 367, US 67, Riverview, and Lilac dumps you onto Dunn Road, which was an old routing for Route 66 in Missouri.
Additional History
In 1976, the entire bypass around St. Louis became I-270. The mile markers (I don't remember the exit numbers of the original section) were changed. I recalled the MO 367 exit being 62 A-B, but I had forgot what the others were marked. The mile markers reset in Illinois in Madison County.
Well, MoDOT has just done a sign replacement project and tore down most of the circa-1962 signs (the button-copy print on very faded green signs) and replaced them with reflective bright green signs with right exit tabs.
The markers on the present-day 270 changed again around 1984. The exit numbers are based of the present day exit numbers. It was a good thing since part of the beltway became 255.
The northwest corner of the 270/255 loop is known as "white flight" territory by Brad Hicks.
On July 26, 1998 edition of Nick News on Nickelodeon (they don't have a website about this show), the first part of the show talked about the Apdot a Highway and the First Amendment. It discussed about why MoDOT rejected the KKK's bid for a part of I-55.
Well, the show producers interviewed some schoolchildren from North County and this one kid mentioned that his school helps clean part of 270. Sure enough I confirmed it when parts of the green guide signs leading onto Lindbergh and I-44 were shown. (Because the only route marked for Lindbergh shown was US 67, and there was an eastbound control city for I-44.)
Sometime in June 1998, there was a freak fatal accident on the ramp from northbound 270 onto westbound 370 which involved A-B products.
Email corrections and comments to harv77@hotmail.com
Sources
Some sources came from old road maps and the St. Louis Post Dispatch. The I-270 gif is a modification of William Yurasko's MD I-270 gif (and the I-244 is from cut and pasting his 295 and 495), which came from James Lin. Some other info from Anthony Boor and Brad Davis.
Disclaimers
This page is not affiliated with any DOT homepage nor endorses them. The links provided are merely coincidental.