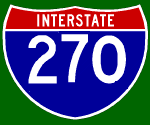 Interstate 270 Madison County, Illinois

We talk about it, we sit in it, we gossip about it, we live with it, but does Madison County apprectiate it? For 34 years we had dealt with the good and bad days and the nuisance of injuries and some of the weirdest incidents that could occur in reality.

Growing up in Alton, Illinois in the 1980's, it was no doubt what was important those days there. Any major news story was front page on the

Alton Telegraph. (St. Louis normally has it in the news briefs unless it was that major.) Any school field trip from Alton to St. Louis required using the Chain of Rocks Bridge since the McKinney was in poor shape and the old Clark was too narrow to cross.

Timing was everything. One knew not to use it Friday afternoons during rush hour (double if one's going westbound). One crossing the islands had to beware of the third month (the canal bridge expansion joints failed once every three months, and nine times out of ten they're the westbound joints). When things make a turn for the worse, where one is can be a key plan of escape. The further inland one is, the better the chance one had to escape and try again a later time.

There were days Madison County wouldn't live without it. A county that had always had to make due with less, we might not have survived through the Flood of 93 if we did not have 270 open across the islands. Having to endure the first 29 years with the old Clark Bridge, it was the safest way to St. Louis if one didn't want to pay high car repair bills. Schoolchildren may not have field trips to St. Louis if we didn't have it.

Unfortunately, there were also days when Madison County had to make do without it. (Those days are the last days one ever brings to a dinner table if a Madison County road geek is having someone over for dinner.) If I could tell one something, I would never talk about August 1994 on the page because the month was one that nobody missed. (Fellow Madison Countians know what August 1994 (esp. that one certain Wednesday night that very month) translated to and the translation sucks. Even July 1996 beats the sure heck out of August 1994 big time.) Another bad month was June-July 1996, especially the last full week of July (the week which cops had to close the highway four out of five times during the work week because of the unusually high number of car accidents that piled up on the westbound lanes).

Despite the drawbacks that are lurking at random, one should realize that reality can turn the favors to Madison County or against it. Being on both sides of the story quite a bit, I know what happens when heck happens and when good happens. (When heck happens, nobody wants to give their names to newspapers when forced to talk about it.) I'd rather be elsewhere when the bad happens. (Unfortantley, which wasn't the case in August 1994 -- the one big "bad" event happened just hours before I watched the old Clark Bridge got blown up. And I was stuck up there for most of the next 5 days after that.)

History
Before I-270 ever existed, Madison County had US 66 (later Bypass US 66) on the Chain of Rocks Road. (Today one can see "Historic US 66 Illinois signs" on the road once west of the IL 3 exit on the westbound lanes.

When the 1956 Federal Highway Bill was signed, Madison County had gotten a measly 74 interstate miles (and only 30 in the western part). Out of the 74 (or so) miles, 15 was assigned to I-270, which went through rural western Madison County (yes, farmland -- and most of that still exist as farmland). Construction started in the early 1960's (I think 1962 or 1963).

Parts of the highway opened around

October 1964 (around IL 203 and IL 111). The highway was completed by January 1967 when the New Chain of Rocks Bridge opened. It was one of the first interstates completed in Illinois, behind I-94 and I-294 (both completed so fast because they were mainly tollways). I-270 was also the first interstate completed in St. Louis, and the first free trip across the Mississippi River. The New Chain of Rocks Bridge was the first interstate bridge over the Mississippi to open, beating out the Poplar St. Bridge by a few months.

The people of Alton did not like the idea having to drive 10 miles on two lane highways just to reach 270, so they widened IL 3 all the way down to the McKinney Bridge by the mid-1970s. However, with the Alton area having over 100,000 residents, they thought they were overlooked by the feds yet they did nothing much until the late 1980s since the money wasn't there. (Also, they were concentrated on a New Clark Bridge at the same time and put that as high priority.)

On July 26, 1988, several changes came. The interstate was widened to six lanes between IL 111 and IL 157, due to the opening of

I-255. That was also the day the loop around St. Louis was completed; over 25 years when parts of the loop opened in 1962 or 1963 near Florissant, MO. That afternoon, there was an antique car parade on the westbound lanes between IL 111 and IL 157. The traffic was jammed for miles as then-Gov. Jim Thompson cut the ribbon. That afternoon was known as the "Antique Car Parade" due to all the antique cars that lined up on the westbound lanes around 1:30 PM.

During the summer of 1993, the highway proved to be the "lifeline" of Madison County as it was the only highway over the river to stay open during the big crest of 49 feet. Viewing the flood from the highway was simply too real to see. Once, I went across the islands during the floods and saw people park their cars alongside the highway to view the flood. (Viewing from the islands definitely beat out viewing it from the Arch.) The cops did not stop this activity until it was too late; when they finally got around into discouraging that activity, they had to guard those makeshift levees in downtown Alton. As I remembered it, even the Alton Belle encouraged Missouri residents to take 270 across the river!

1994 was a very mixed-up year. On January 4, Alton got their late Christmas present when the

New Clark Bridge opened. It meant that one had another option when things got bad.

However, that August wasn't a very good month. Things were bad enough when IDOT did repairs on

IL 143 on the Berm Highway, a key alternate route at the start of the month. On August 10 at 10:30 PM, the bad turned into ugly when westbound 270 over the islands got closed (and remained that way until Sunday afternoon -- meaning Madison County was without it for 4 1/2 days). The rest of the week was hell and I had to endure it in the Alton area that weekend. The rest of the month was just as bad: the following weekend IDOT surprised everybody by closing one lane on the Chain of Rocks bridge in each direction to perform some kind of "MRI". On August 31, the Alton Telegraph ran a related article that made me sick just reading it. (The article is not worth mentioning.) By that time, I wanted September come more than I ever did.

September was much better than August, but IDOT still made me mad by closing some ramps at IL 111 where one could get off the interstate, but not back on. It cost me using 270 for a fourth time that one night and I was very angry about having to get on IH 255 from IL 162. I didn't use 111 again for 3 months after that, esp. south of New Poag Road.

The next year, a book called "Climbing the Mississippi River bridge by bridge" (please correct me if I'm wrong) was released. It gave every single detail of every bridge that crossed the Mississippi River (and is still standing when the book was wrote). Part of the detail of the New Chain of Rocks Bridge sickened me to death: IDOT planning a new span after the year 2000 . . . At that point, I knew that

reconstruction was upcoming and nobody I know from Madison County would like to hear that.

On June 9, 1996, the agonizing

reconstruction started. The first few weeks really sucked. (That hyperlink takes you to an article on July 8, 1996 in the Belleville News-Democrat that I saved.) (However, compared to August 1994, it's only a footnote.) The week that really sucked was the entire week of July 21-28, where wrecks closed down the highway for parts of four days and made everyone very mad. I remembered that Friday night when a few others and me took our business to Greenville to talk about the entire week because it sucked so bad back home.

Well, I think that caught the attention of state senator Frank Watson, who lived in Greenville. The next thing I knew it, he took the highway several times over the next month or two and demanded video cameras are put on the highway in the construction zone. (Half the highway is in his district and even if the part wasn't, he knows several that have to go through it.) The cameras became operational in the summer on 1997. They can be found by looking for attenas on the overheads once you're west of 255. (I do have an article relating to that, but the file is over 400 K.)

Right now, just about everyone is looking forward to this Christmas (December 18 as stated in the IDOT construction alert page), when this annoying reconstruction is scheduled to end (about year early, thank you guys).

Other notes

For many years, this was really the only interstate I knew. The first time I was on the highway was within a couple weeks after I was born (forgot the date, but it was that early in life). For the first 10 years of my life -- about 90% of my interstate usage was 270.

When I grew up in Alton, just about everyone used it at least once a week. Until January 1994, all school field trips from Alton to St. Louis used 270 just to cross the river.

Despite the fact the Chain of Rocks Bridge only has a clearance of 36' above the Mississippi River when the river is at 20', it was the only bridge between Granite City and Muscatine, Iowa to stay open throughout the Flood of 1993. It is why Madison County fared a lot better in the Flood than in the surrounding counties in the greater St. Louis area. (Esp. St. Charles, but I won't get into the detail about that one.)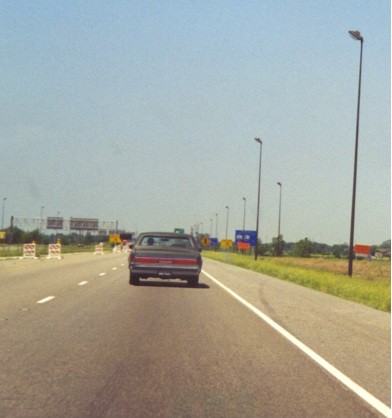 Westbound I-270 just west of I-255 south exit. This photo was taken in May 1998. Note the orange signs and construction barriers ahead -- you still got 3 more months of seeing them!
Currently, reconstruction is ongoing throughout much of Madison County. For more information, go to the Surviving Reconstruction Guide.
And even though I-270 east of I-255 was rebuilt in 1995-1996, the pavement on that section is very rough. (Don't ask me why -- it has always been that rough. Rumor has it that IDOT wants to spend 38 million to rebuild that section -- and they just rebuilt that section 3 years ago!)
Recently, the county took a Route 66 hype, fueled by Gateway Trailnet plans to convert the old COR Bridge to a bike trail. It got the attention of a PBS station out of Carbondale, which airs a show called "Illinois Adventures". One episiode had about Route 66, mainly in Madison Co. Unfortantley, I was in the room when mom had the tube turned so down that I couldn't hear anything. So I don't know any script even though I saw the plot. So if anyone saw that episode, please email me!
The eastern end is not marked at all, and I-70 is not well marked at Exit 15 at all. (And it is just as bad from IL 162 when you get on I-55/70.) And best of all, I got proof why! As a matter of fact, the next mile marker after that junction (provided you stay on eastbound 70) is 16.
Control Cities: When you're on the highway itself, the eastbound control city is "Indianapolis" and the westbound control city is "Kansas City". (left photo) But get off the highway at any exit other than an interstate and you'll notice a big difference -- Illinois treats I-270 as a rural interstate! (right photo)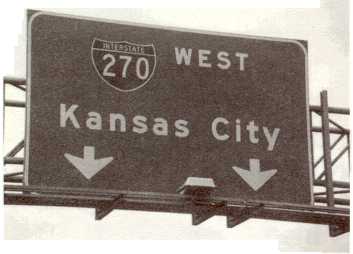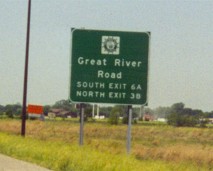 I-270 from Lindbergh (in Missouri) to IL 3 is marked as "Historic US 66". From IL 3 to IL 111, it's marked as the "Great River Road" (Photo to your left for a guide sign). However, Missouri does not sign their section of 66 as "Historic US 66" like Illinois does, so be very careful.
Coming soon -- my personal stories! Also coming soon to a browser near you, SimDrive '87. (This is an attempt to replicate what the signs looked like in 1987.)
Links
The first links are Route 66 Madison County Links.
Holly Hildenbrand's recall of Route 66 in Madison County. She recalls driving 66 in the county in a '59 car which her brother Lance gave it the name "Waldo".
Edwardsville Intelligencer Route 66 by Melissa Ritter
Route 66 by Swa Frantzen
Route 66 in Reverse by Kirk Woodward
Other links that I feel is important.
I-270 Illinois interchange guide created by myself.
St. Louis Post-Dispatch. Here, find the latest news. There is even a searchable archive!
For a more-localized approach on certain news, go the Alton Telegraph.
The Altonweb
Southern Illinois University at Edwardsville
---
This page is created by

Kim Harvey and is in no way affiliated with Illinois Department of Transportation. Most information is provided by myself unless otherwise noted.

Most gifs of this page are modifications of

James Lin'sgifs.

You can email me at

harv77@hotmail.comto submit corrections or other personal memories.

Return to the IH 270 main page

© 1998 by Kim Harvey. This page may not be reproduced for commercial purposes.