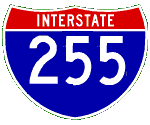 Interstate 255
History
I-255 opened between I-55/244 interchange and Telegraph Road (MO 231) sometime in 1967 (some road maps don't have that in their late 1960 editions, but the Goshua maps did). A few months later, a one-mile stretch from Telegraph to Koch opened. That stretch would be the last stretch to open for another 18 years. Until August 1985 (days after the old JB Bridge got blown up -- that date that bridge got blown up was August 15, 1985), I-255 abruptly ended at the old JB Bridge as US 50 took over.
In 1976, the entire 270/244/255 loop around St. Louis became 270. (Then, there was no plan of building the 55/70 to 270 stretch.) Since 244 also existed in Tulsa (it still does), it could not be a dead 3di. However, for 255, that wasn't the case. Since its other route, in Memphis, was dropped in 1973 (in favor of I-240), it was a "one-way" trip to the 3di "morgue" that would last nearly a decade.
Meanwhile, the people in Alton wanted a freeway from I-55/70 to US 67 in a effort to help improve that area's lack of a freeway system. The Alton/"River Bend" area has over 100,000 and the nearest interstate, 270, is 10 miles away. Due to the lack of money and other proties (Alton residents wanted a new Clark Bridge and the Homer M. Adams Parkway extensions and those were badly needed at that time), the plan was set aside. (Another reason why that plan was set aside was there was no feasibility to even fund it during the 1970's).
The 1979 Rand McNally Road Atlas had the first 3 miles of 255 marked as 270 (just about every map had that), but the proposed section marked as 255 (only the Rand McNally had that, though the Illinois highway map had it marked as 255 as early as 1983). The original route intended in IL had 255 turning north halfway between the JB Bridge and Rt. 3, cut through a lake in Frank Holten St. Park, and meet I-55/70 west of Black Lane. Then some argechovial excavations took place and many Cahokia Indian artifacts were found, including the "Birdman" which is on the overpasses of I-255 if you look to the right. Because of this, the current route got changed a little bit and then some. Today, I-255 crosses Black Lane at Mile Marker 23 (something it wasn't originally supposed to do) and Illinois tacked on 5 more miles in the early 80's so they could have a full loop in St. Louis. (In 1979, there was no talk about I-255 going from I-55/70 to I-270 in Madison County. All other road atlas from 1979 had the entire loop as 270.)
In 1983, IDOT began construction on a 20-mile stretch from the JB Bridge to I-64. Everyone in the area said that the stretch would be marked 270 like those road maps had indicated that was the number. However, in the fall of 1985 (actually late-August to be exact), St. Louis was in for a real surprise. On opening day, they found out it wasn't 270, but 255. Most knew that 255 had been dead for 9 years. Another shock was that the sign trusses and color were different. The sign trusses looked like rectangles and the color on the girders and trusses were brown. The surprises took the entire city time to get used to reality. Many newspapers still used "270" for the entire loop, esp. when referring to the first few miles. (Today, they still call the Missouri section "270", esp. in the apartment and real estate ads.) A feature on the overpasses was that a "Birdman" logo was on all overpasses to the right. (The Birdman is the logo of Cahokia Mounds.)
In November 1986, a 5 1/2 mile stretch of 255 opened from 64 to 55/70. The exit signs at 55/70 are distingushly anti-Memphis: US 40 got omitted from the Exit 25 AB signs. The Collinsville Road signs also have no record, either (that was once US 40). The omissions were likely from the fact I-40 goes through Memphis. (Very unlikely reason, but what the hey?)
I have also drawn a map of the 255/55-70 interchange but it is very hard to pick out everything. I hope to show a better map soon. Speaking of maps, go here to see some old highway maps of the then-proposed alignments of the 1970's.
In March, 1988, a one-mile stretch of 255 from 55/70 to Horseshoe Lake Rd. opened to local traffic in an effort to skip the IL 157 bridge replacement just north of 55/70.
On July 26, 1988 at 1:30 PM, 255 from 55/70 to 270 formally opened. The ceremony was on 270 westbound between IL 111 and 157 and featured an "antique car parade" which jammed up traffic for miles. The blue baseball caps worn at the ceremony by Gov. Thompson, a few mayors, and the contractors were very ironic. They said "Last interstate mile in Illinois". At that date, I-39 wasn't completed, I-72 was only 79 miles long, and I-155, I-172, and I-355 didn't even exist.
You can view the junction list here. For the heck of it, I went ahead and put the exits on the first section of the Alton Bypass down.
On that day, the Edwardsville Intelligencer released a news brief titled "At long last, I-255". This is what it pretty much stated:
. . . We'll be able to get around easier. No more waiting on red lights at Collinsville. . . People will have an easier time to get to Edwardsville. . .
There are some archives from the St. Louis Post-Dispatch about that July date. I have moved them to another page to save room.

Another ironic date was December 3, 1990. The late Iben Browning predicted a major earthquake for that day. Meanwhile, the eastbound span of the JB Bridge opened in the cold wind, which completed the interstate. The earthquake didn't happen, either. (Actually, it ended long bottlenecks that happened from the Route 3 interchange to Koch Road and the highway went from 4 to 6 lanes there.)

During the late 80's-early 90's (talks resumed as early as 1988), Alton returned to the "Alton Bypass" plan to better serve the "River Bend" region. The completion of 255 had only made the plan much more feasible than in 1976. With the New Clark Bridge under construction, the local politicians had reason to go on with the plans. With IL 3, 203, 111, and 140 over capacity and even improvements wouldn't help. IDOT approved plans in December 1991 and construction began in July 1993 in mostly rural Madison County between 270 and IL 143. The expected date of completion of that stretch is October 1998.

In August 1994, an artist by the name of Julie Dennison put up an exhibit at the Art and Design building at Southern University at Edwardsville called "I-255: Signs and Scenes."

On October 13, 1998, the first section of the Alton Bypass opened to traffic.

Profiles

Miles: 30 (3 in Missouri, 27 in Illinois).

255 is a 6-lane expressway, mostly north/south. Except for the JB Bridge (which cops don't enforce the speed limit (60) half the time anyway), the speed limit is 65. (However, the Alton Bypass will be a four-lane expressway.)

Signage

I just took a road trip up and down I-255 recently and this is my observation:

1. The advance guides signs for IL 3 north exit are in all CAPS. Exit 10 looks more like a "Figure 8" than anything else

2. Exit 9 is basically a level junction on the northbound side. This is probably the most dangerous spot of I-255. It is very easy to go north on the southbound exit ramp here -- that is why there are so many head-ons in Cahokia.

3. Exit 6 is a left exit and a left merge southbound. This spot has also seen its fair share of bad accidents. If you go south on Route 3 from 255 southbound be careful: The speed limit drops to 50 in a hurry and there is almost always a Columbia city cop waiting to feast on anyone (esp. ones with Missouri tags on their cars) that blows by him near the Quarry Road exit.

4. There is a major speed trap on I-255 from the JB Bridge to the IL 3 North exit. This trap is either run by Columbia cops, Dupo cops, or by the Illinois State Police. This trap is known to occur on Thursdays and anyone with out of state tags (double if you got Missouri ones) should stay at the speed limit.

5. The ISP has also been cracking down on road rage and aggressive drivers on I-255 too. Three of the cops are actually using unmarked sports cars to pull people over. Worse yet, when those 3 cars get "Golden Eagle" Radar, more cars will get pulled over.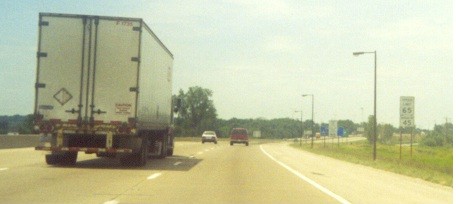 6. The light poles just north of the IL 157 exit are only 7 or 8 feet tall due to the fact just west of the highway is the runway for Parks Airport. Note the light poles are about the same height of this tractor trailer in this photo above.
Fun Facts
Probably the only 3di to ever get totally resurrected on its original route. (Now rumors are going around that the NY governor wants to resurrect 86 in the Northeast, but I know that NY 17 wasn't 86's original route. The original route was on present day I-84 from Hartford to I-90.)
Denver has something in common with St. Louis. While I-70, 270, and US 40 all exist in Denver, locals should know that their 25 isn't the only interstate I know that got painted brown. (One trip to Illinois while in St. Louis should tell all!)
Some ironic facts
The control cites on the southbound lanes say "Memphis". It is so ironic because of the old route through Memphis in the 1960's-1970's.
A real feature of the northbound control signs north of 55/70 is also ironic in nature. For the control city, it says "TO I-270". The main reason it's ironic because the 1978 Route Log and Finder List had the entire 270/255 loop as 270.
Some real fun
If you want to experience "England" driving, get on 255N from 55/70E or 255S from 55/70W. Either way, you would cross 55/70 on what appear is the wrong side of the road. However, you are on the correct side.
To view taxpayer's money getting wasted, the exit sign on 255 south just north of 55/70 is wrong. It says "Exit 26B: I-55/70 Southwest--St. Louis 1/4 mile". In reality, you had just passed exit 26 (Horseshoe Lake Rd.) and the next exit sign (the previous as well) had said "Exit 25B", which is correct. This goof has existed since opening day. I do have a photo of that as well.
Also, when crossing the river, disregard the 55 mph speed limit sign. Nobody does 55 (esp. after since Sammy Hagar released his "I can't drive 55" song) on the JB Bridge anyway and the cops only enforce it at night (and give you up to 65 before they start pulling you over).
More I-255 Photos can be found at the photo gallery page.
Links
These links are for those really undead people that who don't know the whole irony or for those that really wanna know more about it.
3di's from I-55 from Scott (Kurumi) Olgesby. This guy may know nothing much about St. Louis but recently uploaded a new page with loads of corrections.
Billy Riddle's Tennessee Interstates. Billy briefly details the old Memphis route, which in my perspective not worth mentioning a whole bit.
---
©1998 by Kim Harvey. This site is in no way affiliated with the Illinois or Missouri Department of Transportation.
Email comments to harv77@hotmail.com
The gif is a modification of William Yurasko's I-295. Part of the detail came from old road maps (esp. the 1979 Rand McNally) and the St. Louis Post-Dispatch. Other information came from personal experiences.