Washington County Routes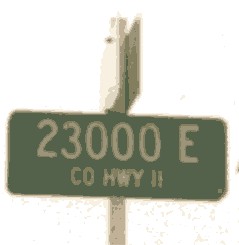 Photo to your left: this is how Washington County signs county highways. They use standard 911 signs. This is one of two forms used: The other has the Road Name in Large Print where the "23000 E" is.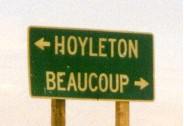 Photo to your right: this is an example guide sign found on certain county highways in Washington County. This one is at the eastern end of County Highway 22 at County Highway 11. There are others in the county. There was once a guide sign on County Highway 1 that had "Rt. 460" listed as an destination, but it was so faded that I could not get a photo of that and the county eventually took the sign down this year.
Only 5 routes are two lane paved -- the rest are gravel or oil-chipped roads. The two-lane paved routes are in Bold. In fact, most county highways are only 16 feet wide; some unnumbered roads (unnumbered roads are known by names) are dirt roads only 10 feet wide.
1: From County Highway 27 to Addieville. This route is mainly a one lane road.
2A: This is the gravel portion of County Highway 27 north of Covington to the river bottoms. I don't know if this number still exists, but it was on the 1964 Washington County Plat Book. This section of highway, is only 14 feet wide, and mostly gravel with sharp curves, and floods out whenever the river gets to a certain level.
4: From IL 177 to Addieville.
5: From US 51 in Richview to the Jefferson County Line.
6: From the St. Clair/Washington County line to just west of Venedy to Addieville.
7: This highway goes from US 51 west to County Highway 17 just east of Posen. Its an extension of County Highway 23.
8: The extension of County Highway 10 east of Du Bois. This highway continues into Jefferson County. This is known as FAS 836.
9: From County Highway 21 to Cordes. This is the second shortest county highway in Washington County. Commonly called "Cordes Road".
10: This goes from IL 4 (the St. Clair county portion is marked as County Highway 57) to Oakdale. This whole highway is 2 lanes paved. This is also known as FAS 836. In the 1960's, this highway turned north in Oakdale up to near Cordes -- that section is now County Highway 21.
11: This road goes from Hoyleton to Beaucoup. Locals commonly call it "Beaucoup Road".
12: This is the longest county highway in this county. It goes from Tilden at the Randolph/Washington County line to IL 160/177 at Venedy Station just east of the Kaskaskia River.
13: This road goes from Okawville to IL 15 west of Plum Hill. It was rebuilt in 1995 and 1996 after locals complained to the county government. (Due to the 1993 car crash which killed a Okawville High School senior one week before her graduation.) Called Okawville Road.
15: An older designation of County Highway 12 from Vendey to then-IL 15 in the 1960's. This was changed to County Highway 12 in the same time when IL 15 was moved to US 460 and when IL 177 and 160 were applied to old IL 15.
16: This is the Oakdale/Coulterville Road and also enters Randolph and Perry Counties before ending in Coulterville.
17: This is Posen Road, and was the highway which state representaive Terry Deering died back in June 1997. Before Deering died, he was considered a role model by the classmates of my high school class for many reason; none which will be mentioned on this page. Sadly, it was three of my high school classmates which found his wrecked car on that June night.
18: This road goes from IL 177 to Noltings and continues into Clinton County as County Highway 18 in that county. Called Noltings Road.
19: The "secert" designation for the Oakdale/DuBois Blacktop Road, the only county highway officailly known only by its road name in the county. This number was found in older plat books of the county, but not in the recent ones. This is also legally known as FAS 836.
20: This highway is also called Posen Road, only that this highway goes from IL 127 to Posen.
21: This is also known as the Oakdale Blacktop, but more commonly called Oakdale Road. This highway was repaved last year.
22: Hughely Road from IL 127 to County Highway 11. This is the road where a high school classmate of mine and two of his friends nearly got killed about a month after Deering got killed.
23: Not all of this highway is two lane paved. The paved section is from Radom to Ashley. There is a two mile section of road that is still gravel, but is divided. The highway through Radom is not well marked, so be careful. In the 1960's, part of County Highway 23 west of Radom was also County Highway 7, that was changed in the 1970's.
24: This highway goes from Hoyleton to the Clinton/Washington County line. This highway continues into Clinton County as County Highway 16.
25: This highway goes from Radom to the Jefferson County line.
26: This is the shortest numbered county highway as it goes only 2 miles in length. It runs between Venedy and Johannisburg.
27: This highway is either called Teddy Bear Lane or Covington Road by the locals. This highway goes from IL 15 to Covington, but it continues up to the Kaskaskia River and into Bartelso as Covington Road.
29: This highway runs from IL 153 to County Highway 10 in the Southwest part of the county.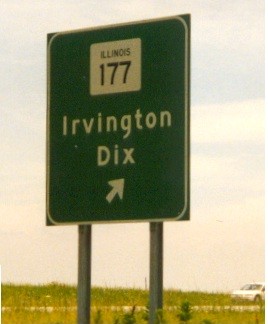 There is a nice little joke to this guide sign on US 51 just east of Irvington. IL 177 ends at US 51; Dix is over by I-57.
If you take that exit and go east, you will eventually encounter this sign as you enter Jefferson County: (look below):

This is County Highway 39 in Jefferson County. If you think this is a good shortcut to I-57 and Mt. Vernon, think again because this highway is extremely rough. The speed limit on this highway is 45 for a good reason why and one trip on this road should tell all to go slow.