Madison County Decreased Routes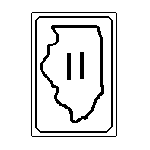 Illinois 11: The National Trails Road, IL 11 headed west from the Indiana state line via Marshall, Effingham, Vandalia, Troy, and Collinsville to East St. Louis (similar route to US 40). 11 got changed in 1926 to US 40.
IL 11 was then used in the 1940's for the current IL 140. This was changed after World War II.
IL 11 is considered "retired" in Madison County and thus does not exist anymore in the Illinois State Highway System.
---

Illinois 43: Existed from the 1920ís through 1964 in Madison County, IL. It went from Marine to just north of Murphysboro, following the current Rt. 4.
This highway still exists in Illinois, but in the Chicago area when IL 42A became IL 43 in 1967.
The number "43" is also retired in Madison County -- but not for the rest of the state.
---

Illinois 112: No longer exists; it followed most of present-day IL 159 north of Edwardsville. Date it opened in the 1930s from Bunker Hill to Edwardsville; date when it changed numbers was 1964.
112 is retired in the county as well as the state. Because of that, IL 112 will never be commissioned again in Illinois.
---

Illinois 127A: Does not exist today; it went from Beaver Creek (at IL 127) to Highland at US 40. This route became IL 143 in 1938 and has never changed since then.
IL 127A will not exist again -- Illinois has rules against banner routes now.
---


Though IL 150 and IL 16 still exist near the St. Louis area, they do not exist in Madison County anymore.
Illinois 16: When the original state highway plan was conceived in 1924, IL 16 went from Litchfield SW to Saunton and met IL 4 southwest of Livingston. Part of the old highway exists and maintained by the county as "Old SR 16".
It goes through Jerseyville, a popular shopping spot for locals in the Alton area.
Illinois 150 went from Hamel through Mascoutah, Sparta, Chester, Thebes, and Cario. The route from Chester to Cario is IL 3 today. The Hamel to Edwardsville route is IL 157. IL 150 existed in the 1930s.
This route still exists from Chester to IL 4 -- where it has not changed. The route from Eden (east of Sparta) to Mascoutah was once IL 43 until 1964 -- where it became IL 4 as well.