October 13, 1998 Opening of the Alton Bypass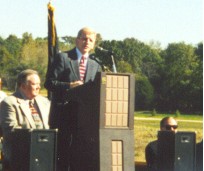 An official from IDOT headquarters starts off the ceremony.
On October 13, 1998 at 11 a.m., Govenor Jim Edgar officially opened up the first strech of the Alton Bypass from I-270 to IL 143 at the Madison Ave. interchange in South Roxana. About 200 people attended the ceremony, which was about 30 minutes long.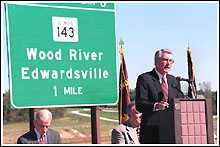 Gov. Jim Edgar addresses to the crowd during the opening ceremonies. (Photo © by St. Louis Post-Dispatch)
The Govenor mainly told about the economic benefits, but also told the crowd about the last two opening ceremonies he attended while he was govenor: the opening of the New Clark Bridge on January 4, 1994, and the opening of the new Melvin Price Locks and Dam in Alton. He said that the opening of the Clark Bridge was the coldest day he has ever did a ceremony, plus it taught him a lesson that when its his ceremony -- he goes first. The opening of the locks and dam was one of the hottest days he held a ceremony. He said that this weather we had today for the opening of IL 255 was perfect.
Then the mayor of Wood River spoke. He told the crowd he just got back from a ground-breaking ceremony of a new plant nearby. (I don't remember any other part of his speech other than he was pretty much pleased to finally have the damn thing -- mainly b/c I could barely hear him.)
After short speeches from the mayors of two other communities, the other local politicans, contractors, and whoever else that made IL 255 a possibility were recoginzed.
Then the ribbon-cutting ceremony was held. I had a hard time getting a good photo of that due to the fact all the news cameras were in front and I was standing behind two tall men. All the mayors and the govenor got sisscors and cut the red/white/blue ribbon on the count of three.
Then the Govenor walked to a black car waiting in the southbound lanes. They got off the highway, did a "flip-flop" on Madison Ave., and then took the IL 255 south ramp back onto the highway.
The southbound lanes were opened to the public about 20 minutes later, but the northbound lanes didn't open for about an hour due to the fact the ceremony was held in the northbound lanes. People who attended the ceremony parked on the northbound on-ramp from Madison Ave, and on the northbound lanes just south of the Madison Ave. exit.

The "parking lot" of cars parked along the IL 255 north ramp from Madison Avenue during the ceremony. (click photo to view a larger image)
News Articles in Response to this