Remember When?
I-270/255 interchange in Potoon Beach, IL in March 1991 (photo from the MS Terraserver Page)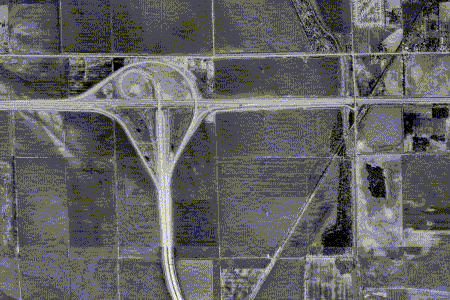 At that time, anyone that had taken the W270 to S255 connection used a ramp that got you directly in the southbound lanes of 255. Anyone that had taken the E270 to S255 ramp did not had to contend with any southbound traffic until 1 mile north of the Route 162 exit.
When the Alton Bypass was under construction here, a new bridge was built besides the southbound 255 lanes. In 1996, people that took the W270 to S255 connection were routed onto that bridge; and people that took the E270 to S255 connection now had to deal with merging traffic. It took myself a few runs down the E270 to S255 ramp to get used to the changes.
With the Alton Bypass open, it now have 3 leaves other than the one shown in the photo. The other leaves are the S255 to E270 connection, and the E270 to N255 connection. Hopefully, I will be able to obtain an recent arieal photo of the I-270/255 interchange.