Surviving Reconstruction Guide for Madison County, IL
---
Information
Interstate 270 from Lilac Ave. in Missouri to Interstate 255 in Illinois is under major reconstruction that began in June 1996 and will last through the end of 1998. Currently, one westbound lane is closed for reconstruction. The left eastbound lane is used as a "reversible lane" but has a major catch: one can't exit from that lane. It is also impossible to reach the lane after getting on the westbound lane from I-255 (except from 2-7 p.m. on weekday afternoons) and to get on I-255 from the eastbound lane because one only has 1/4 mile to do so.
This construction zone is a high accident zone. Any accident can back up westbound traffic all the way to I-255 (sometimes further east). An accident on the Chain of Rocks Bridge shuts down both directions of traffic between Riverview Dr. and Illinois 3. In the history of this reconstruction, over 300 accidents have occurred since 1996, and one of the accidents was fatal (that happened in November 1996).
The speed limit of the zone is 45 mph and is strictly enforced by the Illinois State Police. Cops usually hang out at either end of the zone and sometimes between Illinois 3 and 203 on the westbound lanes. Cops don't give out many warnings on this stretch of interstate. The fine for speeding in a construction zone in Illinois is $150.
Any major accident on a major alternative route (i.e. US 67 crossing the Mississippi River) may overload the interstate. The overloading is even worse on Fridays and/or whenever a gas tanker spill occurs on an alternative Mississippi River crossing.
This construction zone is monitored by video camera. Those cameras are found on the overheads. (The overheads that have them have attenas attached to them.)
Update November 22: Lane restrictions will be imposed from Route 111 to the Mississippi River as temporary barricades will be removed. The use of the temporary reversible lane will be discontinued as of November 23. Beware of a cop that usually sits along the westbound lanes at IL 3 -- he prefers to nail speeders and people that are tailgating. Thursdays is the worst day to go speeding or drive aggressively as I-270 as a whole is a nasty speed trap. The interstate always backs up westbound on Friday afternoons and eastbound on Sundays.
The Alton Telegraph released a front page, top story article on November 6. The article is listed here. Meanwhile, I was able to obtain an hard copy of the story at a convenience store not far from the highway, but couldn't scan in the entire article due to the fact my photo scanner is so big. (Yes, this front page article took the upper part of the page.) So I only grabbed the photo and scanned it on the page below: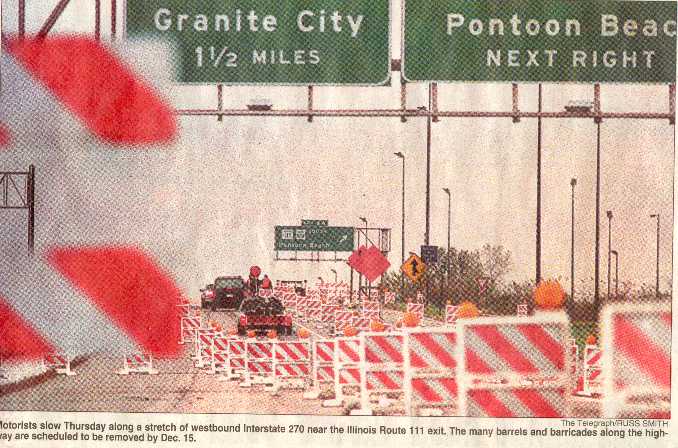 All the reconstruction work should be wrapped up on the week of December 13, 1998.
How to cope with reconstruction
Back in 1997, I searched Newsworks (site doesn't exist anymore for some reason) and found this article on the Detroit Free Press. This was written by Besty Wade of the New York Times on 17 August 1997. Entitled "How to deal with this season's interstate repairs," the article deals with major construction projects on four different interstate highways and a major bridge in San Fransico.
Here's a partial except from this article:
I-270 AT THE MISSISSIPPI
between St. Louis, Mo. and Illinois is jammed for work on the Chain of Rocks Bridge over the river and a bridge over the Chain of Rocks Canal to the east. The delays cover five miles and are expected to continue until next May. The alternate recommended for westbound travel by the auto club is I-255 in Illinois; for eastbound travelers, I-270 south to I-255 to cross the Jefferson Barracks Bridge.

As I know up to date, I-255 across the JB Bridge isn't the only alternative available. You could take 255 to return to 55/70 when things on westbound 270 go bad.

Other alternate routes available:

(1) I-70. There is a major drawback to this route, though. This route should not be used unless westbound travelers are going through St. Louis on a Friday afternoon. The reason why I-70 should be avoided is simple -- most of that interstate in the St. Louis area is under reconstruction as well. If you are going eastbound, it is better to go on Highway 40 or even stay on I-270.

(2) Rt. 3 to the McKinney Bridge. If you live along the Rt. 3 corridor or you want to go to downtown St. Louis, the McKinney Bridge is the best option. The only drawback is the $0.50 toll to cross the bridge, but the bridge is in better shape than in 1993. Once over, you could get on 70 west (and be out of construction) or stay on the surface streets.

(3) Take Exit 7B to IL 255 north to IL 143. Take IL 143 until US 67, then south on 67 back to 270. It is one of my favorite alternatives to take. IL 255 is a route that takes you conveniently to 143, where 143 provide the straightest shot to the New Clark Bridge--once west of Rt. 3, there is only two stoplights to fight for the seven miles (and the first one is usually green). 67 crosses the Mississippi River at the Clark and just before 367, crosses the Lewis Bridge over the Missouri River. 367 takes you back to 270 and out of harms way. People wanting to go to downtown Alton should take this route.

(4) Using public transportation. It isn't the best of the alternatives, but in the long run, you are keeping cars off the road and saving gas money by doing this.

Madison County Transit provides Granite City/Edwardsville, Collinsville/Edwardsville, and Highland/Troy/Edwardsville routes in effort to keep cars off the road.

If you would like to hear more about the reconstruction and get the latest updates, I will recommend you to go to these following homepages:

For browsers supporting

newsgroups or to DejaNews for other browsers.

Days to avoid the I-270 construction zone are:
Friday afternoons, esp. between 4-7p.m. going westbound!
Any holiday weekend (double on Nov. 25 if going in either direction)
You should listen to

Computraffic during mornings and afternoons during the day for latest updates. People could also tune into 530 AM as well, but the reception of that station is not very strong and should be used only when advised.

Email is always welcome at my address.

Return to the I-270 Madison County or to the Madison County Highways Page.

A correction of this guide was sent by Mark Bozanich.

Sources

Gif is a modification of the I-270 MD gif from William Yurasko/James Lin.

Based on personal experience unless noted otherwise.

Disclaimers

This guide does not endorse Illinois Department of Transportation or Missouri DOT in any way nor is endorsed by them. This guide is provided as an informational source for truckers and travelers that have to go through St. Louis to be aware of this construction zone.